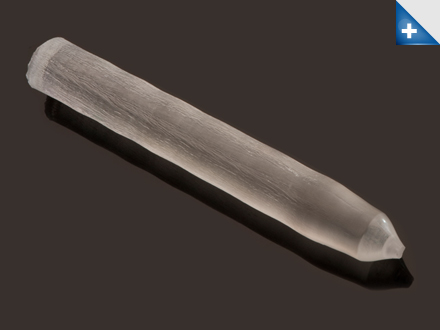 General Information
Yttrium Orthosilicate is a monoclinic biaxial crystal belonging to the C2/c (C6 2h) space group. Rare earth ions substitute for the Y3+ ions which occupy two crystallographic sites of C1 symmetry. Emission and absorption spectra for rare earth dopants are polarized and generally have higher cross-sections when compared to YAG.
Crystals of Y2SiO5 are available with a variety of dopant ions including Ce, Pr, Nd, Eu, Tb, Ho, Er, Tm, Tm:Ho, and Cr.
Eu3+ and Er3+ activated YSO exhibit very narrow homogeneously broadened absorption line widths (sub kHz), embedded within a broader (∼GHz) inhomogeneously broadened line, when cooled to cryogenic temperatures. Er3+:YSO was shown to have a homogeneous optical resonance width of only 73 Hz, the narrowest atomic resonance observed in any solid state material[1].




Rare-earth activated YSO materials are of significant interest to applications including:
Laser frequency stabilization[2]
Quantum memory protocols[3]
Optical signal processing[4]
Laser Gain Media activated with Nd[5],[6],Tm[7], Er[9] and Yb[9] ions.
In general, Y2SiO5 is not as robust a material as YAG but is 10-20‰ stronger than YLF. It has a damage threshold of > 10 J/cm2 for 10 ns pulses at 10 Hz which is comparable to that of YAG. The thermophysical properties of Y2SiO5 have been studied by researchers at Lawrence Livermore National Laboratory[8]. Because of its natural birefringence, Y2SiO5 does not exhibit thermally induced stress birefringence.
Note that SM uses the coordinate axis naming convention described in[9], where b, D1 and D2 describe the 3 principle axis of polarization. Other references (3 for example) use an x, y, z coordinate system, corresponding to the b, D1 and D2 axis respectively.
Contact us with your specific requirements or for availability and pricing of currently stocked compositions and concentrations.