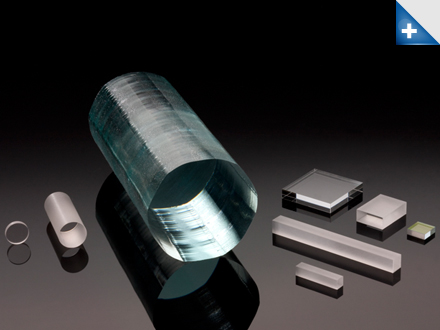 General Information
Crystals doped with trivalent ytterbium (Yb3+) have demonstrated significant potential for application in compact, efficient, diode-pumped laser systems.[1-4] The Yb3+ ion has only two manifolds, the ground 2F7/2 and the excited 2F5/2 which are separated by approximately 10,000 cm-1. As a result, Yb3+doped materials have spectroscopic and laser properties that are advantageous for high energy 1 µm laser systems. In particular, Yb3+ doped materials should not suffer from concentration quenching, upconversion, or excited state absorption. The Yb3+ ion also has a long energy storage lifetime (typically three to four times that of Nd3+ in the same host) and a very small quantum defect which reduces heat generation during lasing.
In the specific case of the host material YAG, Yb3+ has a storage lifetime of 950 µs and a quantum defect of only 8.6%. Yb3+:YAG also has a broad pump line at 940 nm that is 10 times broader than the 808 nm pump line in Nd3+YAG making the system less sensitive to thermal drift of the pump diodes wavelength. These material properties combined with the development of robust long-lifetime InGaAs pump diodes at 940 nm have made this material a superior candidate for diode-pumped high-energy lasers.
Laser systems based on SM's UP-grade Yb3+:YAG have been reported with cw output powers exceeding 430 W,[1] quasi-cw output powers of 600 W,[4] and optical to optical efficiencies of 60%.[2] Such systems have been reported to be scaleable with output powers at the kW level.
Crystals of Yb3+ doped YAG are available in a variety of dopant concentrations from 1% - 100% (e.g. Ytterbium aluminum garnet - YbAG).
Please contact us with your specific requirements or for availability and pricing of currently stocked compositions.